Move More Miles Challenge
THIS SUMMER – Let's get physical to help our mental health
and wellbeing! How many miles can you clock up
together this summer for your chosen school?
MOVE MORE MILES CHALLENGE BEGINS IN....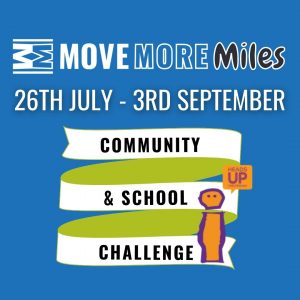 move More Miles Challenge Summer 2021
26th July – 3rd September
Move More have partnered with Heads Up Cheltenham and Cheltenham Borough Council to launch this amazing initiative to encourage and embrace the many benefits that physical activity has on mental wellbing.
Whether you are a family of a school, grandparent, member of the community; lets get active together and count up those mental wellbeing miles this summer!
Below you will find a short video on how you can take part in this Cheltenham Community Challenge and share your experiences online.
#movemoremiles @HeadsUpChelt @MoveMoreCIO
1. Run, walk, swim or cycle your miles between 26th July and 3rd September.
2. Record the distance you walk as a family on the Move More Miles Chart.
3. Take weekly photos of your travels and share on social media channels using the #movemoremiles and tagging your school
4. Take your chart into school with you OR if you are a member of the community, please photograph & email your grand total chart to HeadsUpChelt@cheltenham.gov.uk
5. Miles from each school will be added up and a winner announced!