-The Competition is for students in Year 3 & 4
This event will run at the same time as the Open Year 5 and 6 competition.
-Individual Competition
Max entry 2 children per school. Please select the specific number of children/entries via the drop down whilst registering your school. 
-Children who lie outside the Key Steps criteria (up to one hour rule) and thus not able to take part in that competition would be welcomed and should be registered within this Open competition.
This competition is aimed at those gymnasts who working at a higher level than those competing at Key Steps.
Routines and vault options involve rotation and inversion i.e. backward rolls, hand springs, back flips etc.
Children learning or undertaking these movements need to be instructed by a qualified gymnastic teacher / coach.
These children will either be being instructed through their gymnastics club, or if in school, they should be being instructed by an appropriately experienced and qualified, supervising adult.
-All Gymnasts will perform a floor and vault routine.
Teachers please ensure children work with qualified coach to practice routine.
Please see below routine: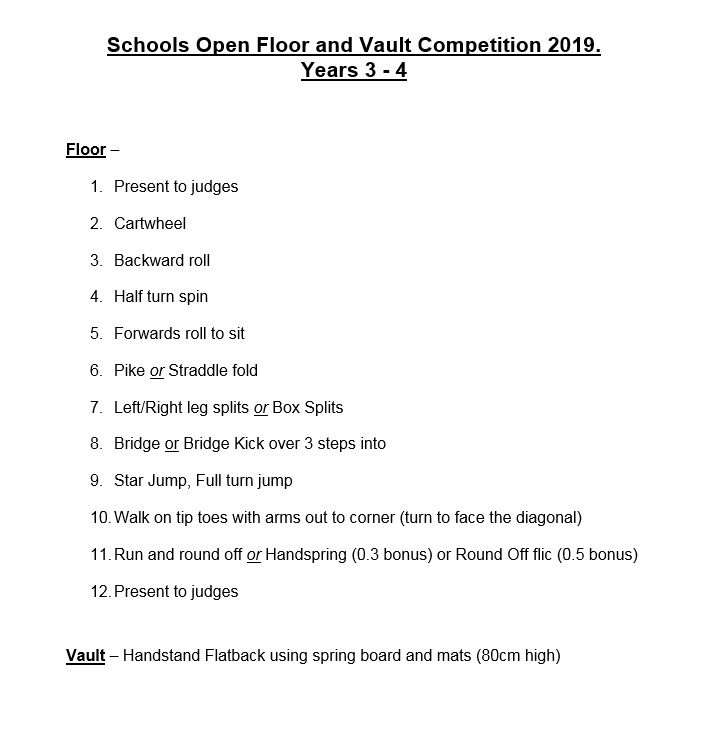 :