welcome to move more camps!
In term time, we are PE and School Sport Specialists that work with Gloucestershire schools to enhance the quality of physical activity, PE and school sport. During the holidays we run activity focused club camps at various locations in Cheltenham, offering opportunities for children to be active.
We believe that a love of physical activity should be instilled in all children, giving them the foundation to lead a healthy, active lifestyle; this is the ethos of our camps. 
However, we don't just stop at physical activity; our Cheltenham camps are full of other engaging activities such as fun board games, arts and crafts! 
Our Move More staff are trained in the delivery of sport, health and physical activity, alongside first aid and safeguarding to ensure a fun, safe environment is created for all children. As well as some pre-planned games, children are also given ownership of the type of activities they take part in across the day.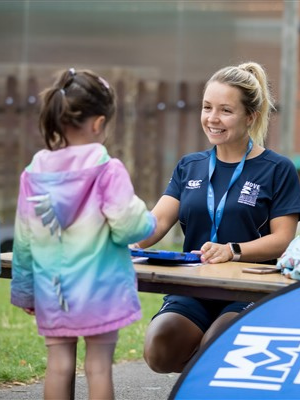 Pricing & Offers
Check out available offers
"This is the second term my twins have gone to the Move More Camps in Cheltenham and they both absolutely love it, my little lad needs a little support and the staff go above and beyond to make it an enjoyable experience for him, they have now and next boards which is great for the children to know the days plans, Natalie is fantastic with support and encouragement to the little one's and all the other staff are friendly and make a great effort in welcoming all the children. Thank you all" 😁
AGE GROUPS
Our main activity camps are open to children from 5 yrs old to 12 yrs old.
The Move More early years camp is open to children from 3 yrs old to 7 yrs old.
ACTIVITIES
Move More camps are all about children being active, learning new skills, trying new sports and developing their fundamental movement skills.
Our planned activities are inclusive, meaning that children of all abilities and skill levels can take part in a friendly and confidence building environment.
Children can also participate in creative activities such as arts & crafts, chess, lego or other popular board games. 
| | |
| --- | --- |
| Tennis | Tag Rugby |
| Hockey | Cricket |
| Orienteering | Netball |
| Ultimate Frisbee | Slip and Slide |
| Speed Stacking | Kin-Ball |
| Badminton | Curling |
| Lacrosse | Multiskills |
| Balance Bikes | Motorskills |
| Tri – Golf | Archery |
| Football | Dodgeball |
CHELTENHAM CLUB / CAMP LOCATIONS
Balcarras School (5-12YRS)
East End Road, Charlton Kings, Cheltenham, GL53 8QF
Bishops Cleeve Primary Academy (5-12YRS)
Tobyfield Road, Bishops Cleeve, Cheltenham, GL52 8NN
Charlton Kings Infants' School (3-7 YRS)
Lyefield Rd E, Charlton Kings, Cheltenham GL53 8AY

"Move More are a fantastic organisation providing great opportunities for children to be active in the area.

I would highly recommend, a very professional organisation making the camps fun for kids, while keeping them fit and healthy."