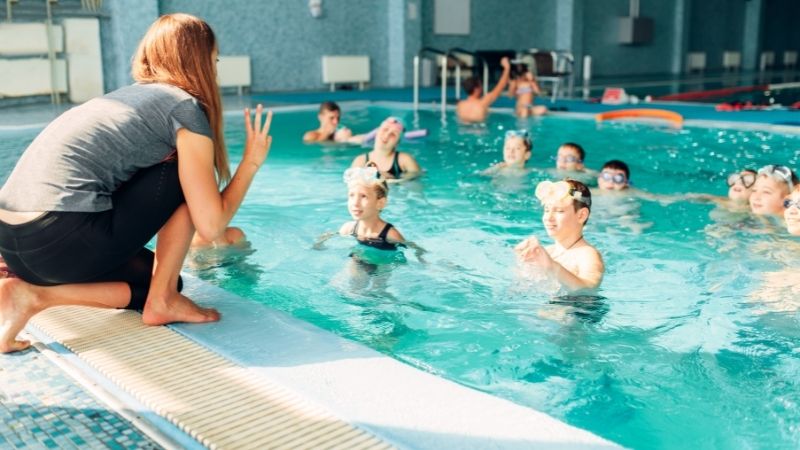 The CPD is to teach Key Stage 1 and 2 pupils.
These courses are open to anyone working in a school swimming environment:

school teachers
classroom assistants
learning support staff
2 Day face to face course.
15 Hours consisting of both dry time and pool sessions.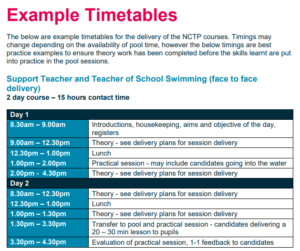 Swimming Training for Teachers
Develop your swimming team with the National Curriculum Training Programme (NCTP).
Class teachers and other adults who have established relationships with your pupils are the best placed to make school swimming lessons a success.
To be confident in delivering school swimming and water safety lessons that meet the national curriculum outcomes, they need support, training and resources. This will also ensure pupils receive the best quality swimming education.
The National Curriculum Training Programme for primary school teachers equips staff with the skills and knowledge to deliver high quality school swimming lessons to make sure your school not only meets but exceeds the national curriculum requirements.
The National Curriculum Training Programme
Our National Curriculum Training Programme uses both theory and practical sessions to teach you the most effective ways of delivering school swimming for success.
Teacher of School Swimming – once completed the holder will be qualified to plan and evaluate session plans in line with the national curriculum, and teach independently in a school swimming programme.
The programme also includes a set of waterproof activity cards, giving fun, varied and progressive introductory activities for pupils learning to swim, and a learner guide to support them through the training.
Course candidates all receive a certificate on completion of the training course.
If you would like to book this course please register below.
IMPORTANT NOTES:
Confirmation of your course placement and the course terms and conditions will then be emailed to you along with a course registration link and voucher code.
Your place on the course will only be confirmed once this registration link has been completed.