NO PERSONAL DETAILS ARE REQUIRED TO VOTE!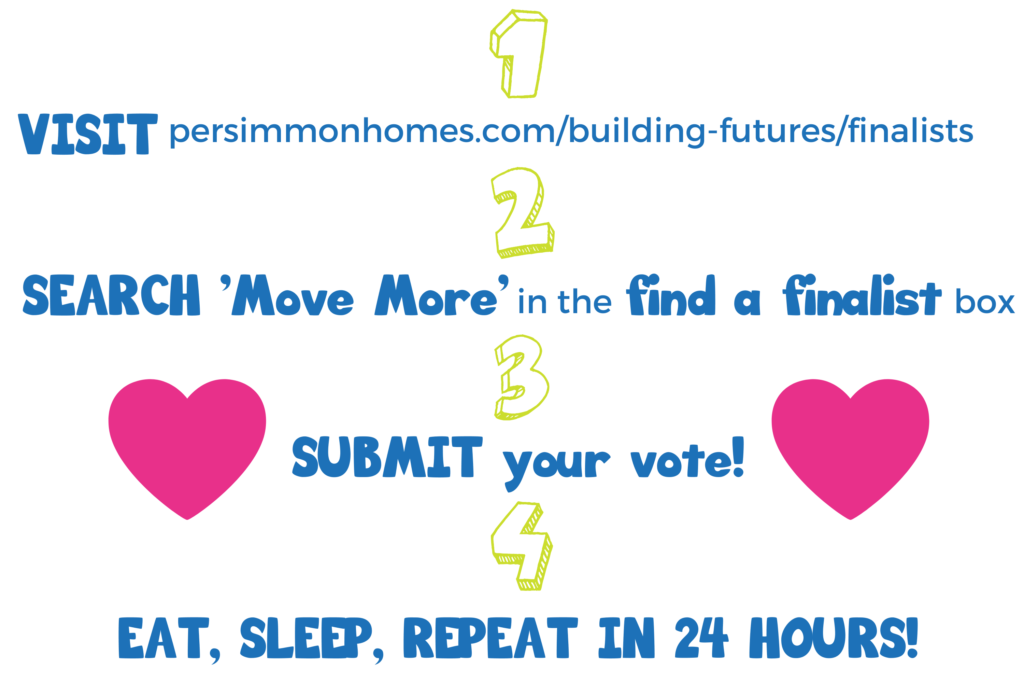 PRESS RELEASE – 13 October 2021
VOTING NOW OPEN TO BOOST MOVE MORE'S CHANCE OF WINNING SHARE OF HOUSEBUILDER'S £1MILLION CHARITY GIVEAWAY
Move More, a charity based in Cheltenham who deliver PE and School Sport; events and competitions and family support services for Primary and Secondary Schools, as well as holiday camps across Cheltenham and Tewkesbury, is in the running to win a share of a £1million Persimmon Homes Building Futures fund aimed at supporting under-18s across the UK but first they need online votes to win.
Persimmon Homes South Midlands is backing the organisation to be a prize winner at a special event later this year, where cash awards of £100,000, £50,000 or £20,000 will be made to those with the most online votes.
Andy Herbert, representing the organisation, said: "We're so proud to be chosen as a regional finalist and it's created a real buzz within the organisation. The last 18 months or so have been extremely challenging for charities across the UK, including ourselves, so we'd really appreciate if people would get behind us and start voting.
"Additionally, the pandemic has presented never-before-seen challenges for our children and their levels of physical activity and health have been impacted in a negative manner. If we were to win any of the top three cash awards we would work with local partners to develop free, community-based programmes that support an active recovery for children from Covid-19 as well as address localised issues such as anti-social behaviour. So far our ideas include hiring a portable swimming pool in order to provide catch up lessons for children identified by their schools, balanceability (balance bike) sessions for pre-school aged children as well as a variety of multi-sport clubs in targeted locations across Cheltenham and Tewkesbury. "
Richard Gibson, Strategy and Engagement Manager for Cheltenham Borough Council added, "Move More are a valued Community Partner of our No Child Left Behind project and I am delighted that they have been shortlisted for this award. NCLB aims to help all young people thrive and it would be fantastic if Move More could win one of the top cash prizes and support us to address the challenges faced by all the children and young people in our town who are living in poverty through new, accessible, sport and physical activity opportunities."
Andy added, "Voting could not be simpler. Just visit www.persimmonhomes.com/building-futures/finalists and select Move More, it would mean the world to us if we could have your support. You can even vote daily, so please re-visit as many times as possible."
Building Futures is delivered through the Persimmon Charitable Foundation in partnership with Team GB, the British Olympic Association.
Through Building Futures, a total of 128 grants of £1,000 have been awarded to groups supporting sport, education & arts and health across Persimmon's 31 regional businesses and its head office.
As well as the £100,000 first prize, there will be a £50,000 second prize and a £20,000 third prize in each category, while a further 87 shortlisted projects will each receive £5,000.
Online voting opened on Monday 11 October and runs until midnight on November 19. 
To support Move More please visit www.persimmonhomes.com/building-futures/finalists.
NOTES TO EDITORS
Our mission is to instil a love of physical activity in all children so they develop a positive, lifelong attitude to moving move. We work across Cheltenham and Tewkesbury and wider across Gloucestershire and South Worcestershire. The organisation has gone through a period of growth over the past 5 years and in a typical year would work with 23,000 children and over 700 teachers.
Website: www.move-more.org
Facebook: @MoveMoreCIO
Twitter: @MoveMoreCIO
Instagram: @MoveMoreCIO
Email: info@move-more.org